AUG 15, 2022
World's most connected former billionaire warned about the coming vax population cull. He was found dead shortly after.
You've probably had his anti-virus protection software on your computer.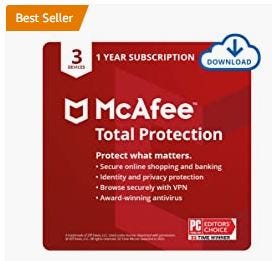 Thanks for reading Surfing the New Normal! Subscribe for free to receive new posts and support my work.Subscribe
John David McAfee was a British-American computer programmer, businessman, and two-time presidential candidate who sought the Libertarian Party nomination for president of the United States in 2016 and 2020.
His twitter account still has over a million followers and he described himself as "Iconoclast. Lover of women, adventure and mystery. Founder of McAfee Anti-virus"
ON FEBRUARY 5th, 2020 before lockdowns, before most of us were even paying attention to Covid, he sent this warning tweet: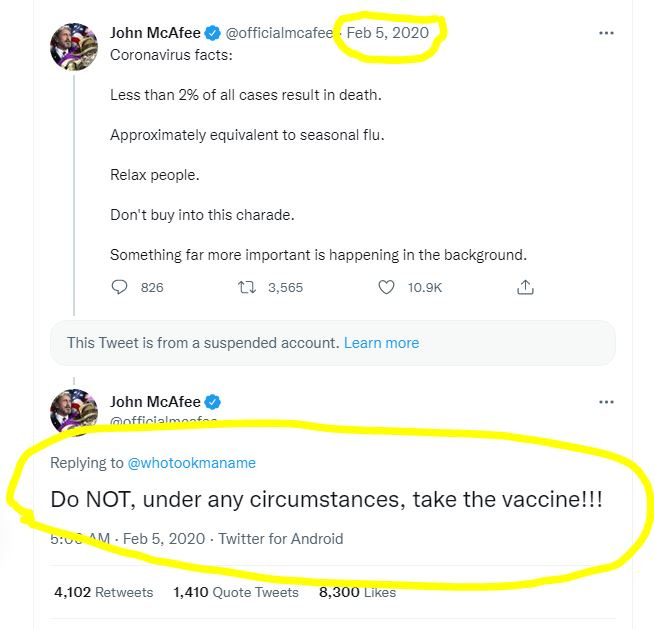 Stuck in a Spanish prison over US tax-evasion allegations, John warned repeatedly that he was getting subtle messages from US authorities that they were going to have him "wacked".
He even got a tattoo saying "whacked" while incarcerated, and it became a meme along with "#mcafeedidntkillhimself"as John continued to speak out agains the deep state and the Plandemic via twitter.
Shortly before he was found asphyxiated in his cell (camera's broken, guards asleep… a la Epstein) he tweeted this: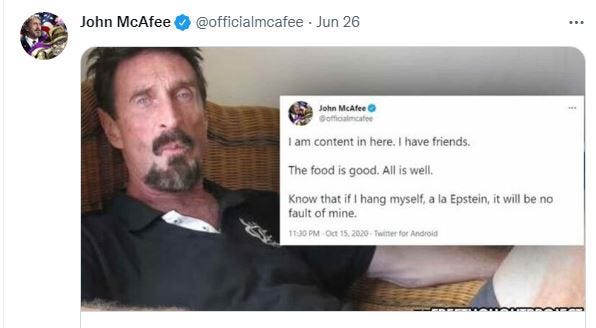 The Spanish government immediately ruled his death as suicide, and said the motivation was that he was about to be extradited to the US.
His widow, Janice, immediately contested that claim.
The Spanish government has kept his body from being released for almost an entire year now. Zero Hedge covered this last month. Zero Hedge on John McAfee
His wife is still fighting for access to his remains, and an independent autopsy.
John was a computer and data guru, and I'm guessing there's still a data bomb set to got off with some pretty wild revelations.
We didn't listen to him then, but his message is still very much alive:
"WAKE UP KIDS!"